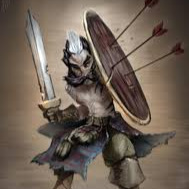 Gnome - Barbarian
Battle Rager
PERSONALITY TRAITS:
When I set my mind to something, I follow through no matter what gets in my way.
IDEALS:
Nothing and no one can steer me away from my higher calling.
BONDS:
I wish my childhood sweetheart had come with me to pursue my destiny.
FLAWS:
I'm convinced of the significance of my destiny, and blind to my shortcomings and the risk of failure.